On Friday Evening, August 6th 2010 at 4:30pm, George Alemshah proudly opened the doors to showcase the George Alemshah Art Gallery and Studio. Guests were treated to a lively evening of music, fine wine and cheeses and were invited to view George's abundant portfolio.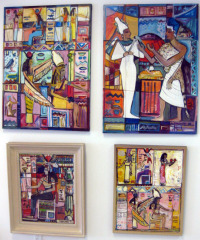 As soon as Guests entered the gallery they were transported to another world. Surrounded by artwork one only had to turn their head to find another striking masterpiece from the Master himself, George Alemshah.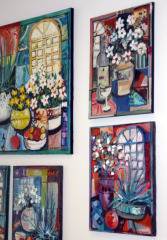 George's artwork has been inspired by many different life experiences and at the gallery his works are grouped together into those different stages. Simply strolling counter-clockwise around the room you can follow his life's journey from Strong, Emotional images of Groups of Women, to "Bon Vivant" Landscape pieces, to Egyptian influences, and finally to his latest series Abstract Impressionism.
"I love the colors and use of space," said one Guest, "This one reminds me of butterflies dancing," said another.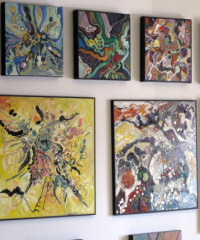 The George Alemshah Art Gallery and Studio will be open throughout the month of August 2010 on Friday Evenings, 4:30-9pm and Saturdays 10am-4pm or by appointment. (Click here to set up an appointment with George)

Art Lovers and Enthusiasts are welcome! George would love to see you!
The gallery is located at:
10680 Los Alamitos Blvd., Los Alamitos, CA 90720