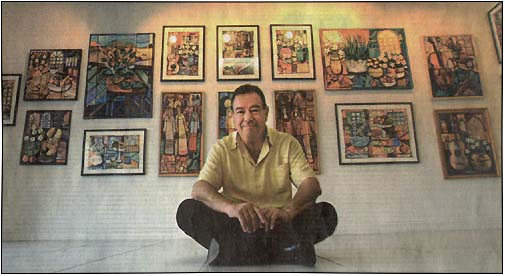 Like most people of Armenian ancestry, George Alemshah has lived an international life. Born in Heliopolis, Egypt in 1939, George immigrated to Beirut, Lebanon as a teenager. There he met his wife of more than 45 years, Sonia. With the whisperings of an eminent war in the air, the Alemshah family left for North America. After a seven year stop over in Canada, George, Sonia and their two young sons finally settled in sunny southern California where George has worked as a successful Interior Designer and Artist.
George's love for painting was a joy born out of necessity. Having lost his own father as a small boy, his first paintings were a way to remember his father and his childhood. A bit disjointed, sometimes shattered; just like his journey through life – George's paintings can be described as looking through the eye of a prism. His style (often described as Cubic Impressionism) was one he perfected in Beirut. George has studied with Eugene Kassassinoff, the former artist to the Egyptian Royal Family.
George attained a high degree of success with permanent exhibitions around Lebanon and much of the Middle East. But George's paintings, like his life, have always changed and evolved. His cubist beginnings have graduated into many forms of abstract expressionism. No longer content with only Egyptian influences, George has done a series of African Animals, abstract expressionism and traditional Armenian scences. He has also continued to paint his "bon vivant" series. These paintings depict George's philosophy of life; eat, drink and be merry.
Representative of the times in his life, George has paintings in private collections around the world. In those paintings are chronicled: Exotic places, childhood memories, deep seated fears and shattered dreams but most of all love for his family, life and hope for tomorrow.
If you would like to find out more about the artistic works of George Alemshah you may contact him at: george@alemshah.com