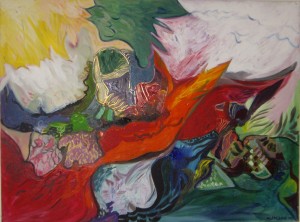 Tropical islands are my favorite  places to visit for a week of relaxation, I love swimming and snorkeling in the warm Caribbean waters,  the lush green vegetation and the exotic flowers.
Even though the islands have a lot of similarities, I have had a different experience in each one.  I was inspired by Bora Bora for this painting, I was at the Club Med spending a week with my wife,  we had a  small  bungalow raised above water, it was a beautiful setting.  The food, the fresh bread, the cheese and the wine were great and needless to say I was happy. Life was beautiful and I had a great time.
When I got back I could not wait to express the wonderful experience on canvas,  RAINFOREST was created, I have thought of other titles like Bird of Paradise and a few others but at the end Rainforest was my choice.
Isn't nature beautiful, it's  good to be alive.
George Alemshah
Inquire about this painting