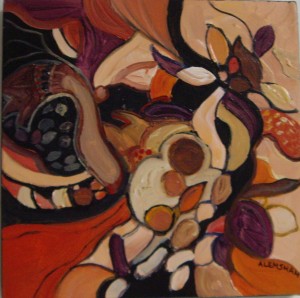 The title of this painting came from my client/friend D.C.  I agreed with him right away when he suggested it,  I had called it still life, this painting hangs on his wall in the  beautiful home that I helped design and build.
Being an interior designer I was always looking for a touch of color or interest on small uninteresting walls. I have painted a number of small  paintings 14×14 and 12×12 for that reason, not only for small areas but  one can bunch them together for a larger  wall.
Everyone needs a little color in their lives, life would be boring without it.
George Alemshah    Not for sale